Ever get those days when you ask yourself…'I don't know what to write about on my website!'
Maybe we're afraid of writing and we start thinking, 'I'm not a good writer, maybe the readers won't like what I'm writing, feel like I never have anything interesting to say, no one will be interested in what I'm writing…it's too boring…goes on and on.'
I have struggled with this myself….
It's important to keep our website alive by adding new content. Google likes that and we will too because people will read them…..
Here are some tips I want to share with everyone and to help keep finding those great topics to write about!
'Tips to Help You Find Things to Write About'
---
1.   Comments.
Look at the feedback in your comment box. Comments allow our visitors and you and others to have a discussion. They can give us great insight as to what our visitors are looking for and give us an idea of the type of visitors they are.  We can get some great ideas  of things to write about here!  Make a list and start writing your detailed answers.
2.   Friends Asking.
What are your friends asking, discussing in social media, emails, concerns? What are the people in your Wealthy Affiliate community asking? If we can answer those questions aren't we having happier customers? Take the time to write detailed answers to each of those questions, and add them to your list.  If they're asking questions, they're probably asking in the
search engines looking for solutions.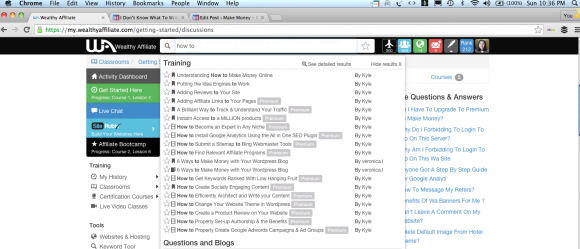 3.   Competitors 
We have a business and one of the ways to have a successful business is to have a smart business strategy. We need to know what our competitors are doing so we can grow our business. The truth is, they will be also be checking us out too..looking at our website.  They're hungry for our customers !  Getting competitive intelligence and planning our strategies can give us all sorts of ideas of what to write AND write better! Check them out on the first 2 pages in Google.
Look at their feedbacks/comments and see what questions are being asked. This will help you to know what their visitors are looking for.
4.   Your Products and Services
Look at your website, your posts and pages. What is your niche…i.e. what are you trying to help your visitors with and what are the benefits…the value they will get?  Look at your titles, your paragraphs and sentences and you will find lots of exciting things to talk about…break it up and add them in your list.
Example:
Scuba Diving can be broken down into:
Types of dive gear => wetsuit – fins – mask – BCD
Lessons => Discover Scuba – Open Water – Advanced – Rescue – Divemaster – Instructor
Dive types => Wall diving – Drift diving – Cave diving , etc.
Dive locations => Caribbean – etc,
Dive boats =>, etc.
Have you ever felt that when you finally get writing and you don't want to stop and now you're concerned you're writing too much….write them down in your list for future writing.
5.   Search Engines
Go to your search engine and look for the up and coming news in your niche. People always hear of new ideas, new products and services either on the radio, TV, social media, friends and family, your community. Looking for the latest news can give us heads up..and can excite us, we want to know more, even purchase it or do more research. Chances are lots of people are feeling that way too. Read books on your niche, go to libraries….research….There you go…add these ideas to your list.
6.  Scammers
When you see writing like 'How I Became A Millionaire Overnight!' and ridiculous promises in our emails, social media, through search engines, take a look and see what they're writing about. What were your feelings when you were scammed and what would you want to offer that's real. What can you say better? Give solid, detailed answers and show proof and do it passionately. We can get endless material and add them to our list.
If they're giving out ridiculous promises to their readers….their call to action…we can turn the call to action into honest calls.

7.   Outside Of Your Box.
T do this, you need to take a break from your normal routine of your business. Do some exercises, go for a walk…
Brainstorming is one of the best ways to get some creative ideas of what to write about. We can get some very different ideas of topics…the topic may be way off the wall, but if we brake that wild idea down we could end up with the best topic ever!
Write backwards. Instead of getting the visitor to the end, what if we write the solution first and then work backwards from there.
Start daydreaming! What have all the successful people in the word done to achieve what they have done? Dream!
Thinking out of our box can give us all sorts of ideas! Just be creative and let your imaginary mind go….
You spent countless hours working on your business! You know your products and  services very well…you have a wealth of knowledge and information, but to your customers, it's a new world to them. They're not going to forget you because they won't forget the valuable information you give to them and how you helped them solve their need…their problems. If we keep this as part of our passion, we will establish trust, loyalty, get new customers and not only that go up in our search rankings.
"Want to see more of what people are asking?"
I do all my work in Wealthy Affiliate so please feel free to come and visit me there.  If you have any questions or want to write feedback in the comment box below, I promise I will reply back to you!
Thank you!
Your friend,
Monica