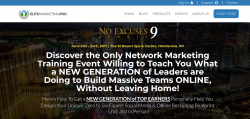 Are you looking to get into online business and need a training platform? Are you afraid of getting scammed? A lot of people just dive in and pick any training platform only to realize they dished out thousands of dollars and learned nothing. Today, I'm going to tell you what Elite Marketing Pro is all about and the answer to the big question… is it worth the money?
Let's find out more about them.
Name: Elite Marketing Pro
Website: elitemarketingpro.com
Prices:
EMP Membership $297.00

10 Minute Traffic Machine $997.00 US or you can make 3 payments of $427.00

Ultimate List Building System 2.0 ($147.00)

$30 Million Video Sales Letter Workshop ($47.00)

90 Minute Profit Machine ($47.00)

The Copywriter's Guild ($197.00)

The Ultimate Email Profit Machine ($47.00)

Attraction Marketing Formula ($47.00) and discounted to $27.00 when you join

Social Media Recruiter ($97.00)

Linkedin Recruiting Playbook ($197.00)
I'll tell you what these packages teach below.
Owners: Tim Erway. Matt Crystal, and Ferny Ceballos
Overall Rank: 7 out of 10
Would I recommend Elite Marketing Pro? Yes, I would but if you are new to the industry and are on a budget, you might want to reconsider looking at a different training platform that can accommodate you. 
The Company: What is EMP?
---
EMP is a training platform that teaches people how to make money quickly using their paid traffic marketing strategy otherwise known as paid advertising including using their free methods. Their main goal is to teach you how to promote their educational training programs and how to bring traffic to their packages.
What's great is, their knowledge on generating leads comes from the successful owners' proven methods which they teach you to get the same results. This means you will learn from their packages, how to generate leads, make money off them, create successful capture pages and much more.
They also have a decent 'free' affiliate program which you must first purchase a package of theirs and then you are automatically enrolled to promote their training resources like videos, audios, and their other educational packages to your target audiences who want to have an online business at home and to network marketers. The idea is, while you learn, you can also make money.
Their platform is very much on the MLM principle (networking) and is conducted legitimately in that they actually do have products/packages to promote which are priced from $27.00 to $25,000+.
They say their courses are designed for beginners, intermediate and advanced marketers. If you already have your own online business, you can still learn how to generate traffic and not promote EMP's educational products.
EMP does, however, have additional expenses you must pay to get your online business going. For instance, you must get your own domain, hosting and autoresponder because EMP generates the leads and then markets to them. Those leads are stored for you and if you have other products outside of EMP, then you want to store them on your own site.
The Good:
---
EMP is legitimate and their training is very helpful from what I could see after purchasing their Attraction Marketing Formula for $47.00 US. I picked up a lot of good information that I can incorporate into my non-MLM online business. I am quite impressed by how well this training is organized.

You get a coach. Once your payment is accepted you are given an EMP account and your coach sends an email to set up a time to meet online and discuss your goals and assignment strategies.
You can set up your website and the part I like is how everything is there for you in regard to setting up your own email list.

Friendly community of network marketers. 

If you don't have your own business, you can still be an affiliate member and send people to the EMP platform. 

They offer you their return policy which is a 30-day money back satisfaction guarantee on each of their packages. 

Support is adequate and I will tell you more about this below.
They set you up on their Facebook for members only where you can ask questions and make friends.
The Bad:
---
I have been doing internet marketing for a while now and there are some terminologies being used in the package I purchased that I didn't understand and so it could be challenging for the new online marketer.
To be honest with you, I really had a hard time trying to choose a package because there are so many. I would have no trouble making a 100% commitment if they combined all the packages as one with a monthly cost and a discounted yearly plan.
I can definitely see this platform as being quite pricey especially if you were to purchase the entire range of educational packages, it would cost you around $2,000.00+.
Who is EMP for?
---
EMP's training platform, they say is for newbies to the very advanced online marketer. They teach anyone who is interested in online marketing. The language they use is English. Some areas they cater to are for folks interested in:
Affiliate marketing 

Direct sales

Internet marketing

Any kind of brick and mortar business

Service business

Anyone interested in making money

Anyone in the world who has a computer and internet
EMP Packages & What You Will Learn 
---
1. 10 Minute Traffic Machine $997.00 US or you can make 3 payments of $427.00.
In this package, you will learn the methods of getting high-quality traffic such as:
How to find your potential prospects and where they are. 

How to create landing pages that will entice your visitors to purchase products.

How to create ads and get more likes, shares, and leads on social media.

How to get and keep long-term customers and have your advertising fees looked after.

How to get more traffic to your YouTube and Instagram.
2. Ultimate List Building System 2.0 ($147.00)
This package teaches you how to build your email list after you have accumulated your traffic. For this you will receive the following:
Video training for list building.

Copywriting templates and fill-in-the-blanks with headlines, bullets, and offers, etc.
3. $30 Million Video Sales Letter Workshop ($47.00)
This package teaches you how to get massive sales and earn big dollars. The following is what you will receive:
90-minute video.

Letter templates offering 25 sales points and all you do is fill-in-the-blanks.

Get over 200 amazing power words to incorporate into your emails, ads, etc.

Get 5 videos that are in the form of sales letters.
4. 90 Minute Profit Machine ($47.00)
This video will teach you how to makes more sales from the 90-minute webinar than what you can make in a month.
Webinar shows how $107,359 was generated using their formula.

Get tips and techniques.

Get fill-in-the-blank templates.
5. The Copywriter's Guild ($197.00)
This system teaches how to write emails, sales pages, and ads, etc. 
6. The Ultimate Email Profit Machine ($47.00)
Learn how to write emails and strategies for emails with meaningful subject liners. 
7. Attraction Marketing Formula ($47.00)
I purchased this one.
This package teaches you methods to recruit your leads and get them to join your network. For this, you will learn the following:
How to recruit people into your network marketing business.

How to write emails without the sales talk.

Learn what to do when encountered with rejection from your leads.
8. Social Media Recruiter ($97.00)
Learn how to connect with people in social media without being salesy. 
9. Linkedin Recruiting Playbook ($197.00)
Learn how to recruit people from Linkedin. 
EMP Support
---
There is a community of members inside and if you go to YouTube, there are lots of videos with professional speakers doing presentations for their members. The owners do support their educational platform as you can see them do presentations.
4 Ways to Get EMP Support
You can get support and ask questions by going to their Facebook which is for members only.
Look in their FAQ's and see popular questions and answers.
Submit a support ticket. It can take up to 48 hours to get a response to your question and they encourage you first to check FAQ. When they get to your question, you will receive an email with an answer.

You can contact them by phone from 9 am to 5 pm CST (Monday-Friday). Their operators will write down your questions and relevant information and submit it on their support ticket. Your best bet is to just submit a support ticket, they say it is the fastest.
My Final Rating on Elite Marketing Pro is 7 out of 10

Is EMP worth the money?
It is if you are looking at starting or already have an MLM business. Elite Marketing Pro (EMP) is an excellent MLM training platform if you are willing to pay the price.
EMP is definitely a legitimate network training platform and I had a great discussion with my coach. Because of my commitment to my Super Challenge with Wealthy Affiliate which I absolutely do not want to let go, I realized I would not be able to do all their assignments on a timely basis. We decided I will just do my EMP tasks in my own time and contact my coach when I have questions.
EMP's training program, in my opinion, is very good and I particularly enjoyed watching their YouTube videos with big-name players like Eric Worre who is very successful in network marketing. Even though I am not a multi-level marketer, there is no doubt in my mind that the training you will get with them no matter what industry you are in is quality and proven material. Is EMP worth it?
Even if you are not interested in becoming an affiliate to promote their training packages you can still join and learn lots.
I am, however, disappointed in their educational training packages because there are so many and like I mentioned before, it's rather challenging trying to decide which ones you want to pay for without going way over your budget.
I think this platform would be very costly for the newbies and for those on a limited budget. If they were to somehow consolidate them into a premium membership where you pay a monthly fee of say $49.00 and have a discounted yearly fee of around $300.00, I can definitely see myself here if I was not already a member in an affiliate training platform I really do like.
My Final Thoughts
---
EMP is definitely worth the money if you can afford it and like I mentioned, their training is based on the owners' successes and proven.
There are actually not too many training platforms I consider worthwhile as many are scams and so I'm very pleased to add the Elite Marketing Pro to my good list.
BUT…
I still say the affiliate training platform I am with is still the BEST one. It's actually my #1 recommendation and is called WEALTHY AFFILIATE. Why?
For starters, Wealthy Affiliate is where I learned to create my first website (I did this in around 60 seconds lol…), built my foundation and my brand and I do all my online business inside their platform.
I get instant responses to all my questions which at times can be around 2 am. WA's 24/7 support is the best in the internet world.
While it's similar to Elite Marketing Pro, Wealthy Affiliate offers much more training and the great part is the training is all consolidated. Their training cost is also substantially less. This doesn't mean you get less quality, in fact, Wealthy Affiliate has training and support that is far superior than any other affiliate training platform in the internet world.
                    Elite Marketing Pro                                 Wealthy Affiliate
 Cost

 

10 Packages.

 Prices range from $47.00 to $997.00

 Free training.

 $49.00/month to access everything.

 $299.00 Black Friday Sale for a year.

 Quality training

 Yes

 Yes

 Earn while you learn

 Yes

 Yes

 Affiliate program

 Yes

 Yes

 1-on-1 coaching

 Yes

 Yes

 Training type

 Primarily for getting leads and email marketing.

 All aspects of internet marketing: SEO, Social Media, PPC, Email lists, etc.

 Support

 FAQ, Submit Support Ticket – may take up to 48 hours to get a response.

 24/7/365 Support is within a couple of minutes.

 Live chat.

 Adequate tools

  Yes

  Yes

 Overall rating

  7 out of 10

 9 out of 10
There are tons of reasons as to why I say Wealthy Affiliate is my #1 recommendation, the main one is the support. Ask any question and you will get instant responses back.
They have literally thousands of lessons, while EMP has 47. Wealthy Affiliate teaches you how to use your passion(s) and turn it into your successful online business. 
Do you want to have a look inside Wealthy Affiliate? It is FREE and no credit card is needed.

I hope I gave you helpful information and if you have any experiences using Elite Marketing Pro or Wealthy Affiliate and have any questions or comments, it would be AWESOME to hear from you.
Thanks for reading,
Monica