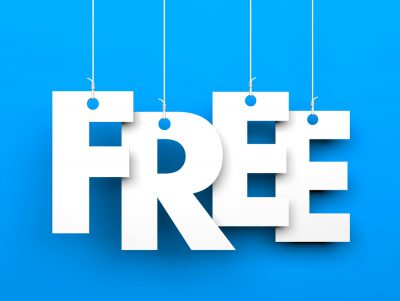 ​One of the best things about being an affiliate marketer is not having to carry inventory. This is a huge saving for us, but the problem is even with low overhead, it is often times challenging to get past our competitors who can afford to spend the big dollars on commercial affiliate marketing SEO (search engine optimization) tools to bring their traffic in.
I made up a list of 12 of my free affiliate marketing tools that I consider are the best and want to share these with you. 
1. 

Seoptimer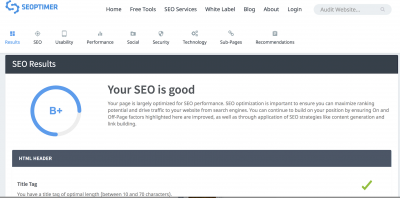 This tool is perfect for every webmaster, blogger and SEO specialist. If you want any of your web pages audited quickly, I really think you will enjoy this one. It's very easy to use. 
All you have to do is enter a URL address and Seoptimer will analyse it and give you instant results.
The benefits of the free SEO audit is to:
·      help you improve your page ranking.
·      get SEO tips for your site.
What I like about this tool is it will rate your page, tell you the number of recommended improvements and describe what you need to do to get your blog to rank higher in the search engines. 
Your blog is rated on SEO, usability, performance, social media, and security.
It will also check your Title Tag, Meta Description Tag, keyword consistency, mobile friendliness, page speed and social results.
2.

WordPress

This piece of cool software is the world's most popular content builder and management system that is open-source written in PHP.
Even while it's totally non-geek and easy for beginners, WordPress is the most sophisticated tool for bloggers. Even brand name large corporations like Fortune 500, Walmart, Disney, Facebook and many others use this.
I use this inside the affiliate program I am a member of called Wealthy Affiliate. 
WordPress is user-friendly and you can easily create beautiful websites and blog contents.
One of their greatest features is the ability to add plugins (small software), widgets that can go in the side bars adding to your website design and a plethora of gorgeous themes to choose from.
3.

Buffer
Most often, we don't seem to have the time to publish our articles to social media and when we do, it's not done enough. Social media is one of the best ways to get our articles out to the public and generate quick traffic. This tool will save you a ton of time to do other work you need to do.
Buffer is a social media management tool designed for the web and mobile. What I like about this tool is it lets you schedule your articles. Buffer sends your articles out to your selected social accounts and tracks the performance of your content.
It manages all of your social media accounts and eliminates the need of logging into all your other social accounts to schedule.
All you need to do is choose the date, time and the articles you want published to your social media accounts and let Buffer do the rest.
NOTE: You can have a free account if you want to manage 3 social accounts. For this starter plan, you can have up to 10 scheduled posts per social account. They also have a variety of paid plans if you need more benefits. 
4.

Jaaxy Keyword Research Tool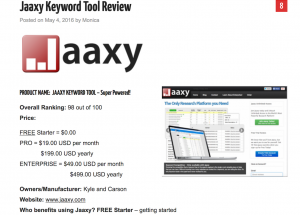 Want to know why your competitors are ranking? Jaaxy Keyword Research Tool is not only the world's best and popular keyword and research platform for internet marketers, they also push you way ahead of your competitors.
They know you need information on your competitors and so they 'spy' on them and give you what they don't what you to know.
It doesn't matter how good your articles are if you don't find the right keywords that will rank on Google's first page. Using keywords that thousands of your competitors use makes no sense. Jaaxy gives information like traffic and competitor numbers on a particular keyword or phrase you enter and it lets you know if the keyword is good to use or not.
I use my 100+/100- rule, in other words I look for traffic over 100 and competitors under 100.
You can even find out how well your articles are doing in Google by entering the URL and it will instantly tell you where it ranks on the first 100 pages.
5. Hubspot's Blog Topic Generator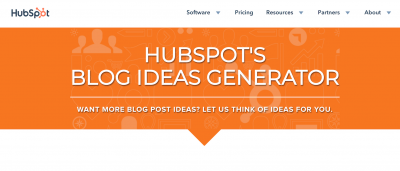 Every blogger feels like they have run out of topics to write about but in reality there is no such thing as running out of topics to talk about no matter what your niche is.
Hubspot's Blog Topic Generator is quick and easy to enter a relevant word and it will give you all kinds of topics to write about. 
You can put in 1 – 3 different nouns and it spits back 5 great topics. When I first tried this, my 3 nouns were 'write', 'affiliate' and 'review', you still get 5 topics and I was hoping I would get 5 topics on each noun.
I tried again, only this time I entered "affiliate marketing" as one noun and it generated the following 5 topics:
1) Why We Love Affiliate Marketing (And You Should, Too!)
2) 5 Tools Everyone In The Affiliate Marketing Industry Should Be Using
3) 20 Myths About Affiliate Marketing
4) 15 Best Blogs To Follow About Affiliate Marketing
5) 10 Quick Tips About Affiliate Marketing
These are definitely good topics I can write about but first, I would enter the keywords thru Jaaxy to check on the monthly traffic and the number of competitors using the keywords. 
If you want a whole bunch of amazing topics relevant to your niche, you can download them. 
6. 

Coschedule's Headline Analyzer Tool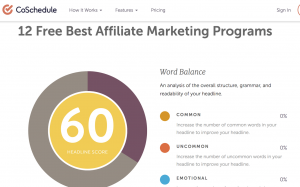 If you are like me, sometimes there are challenges in coming up with great headlines that will grab our visitors attention. This Coschedule's Headline Analyzer Tool will help to bring traffic to your article.
Did you know that when readers skim your article, most of them will read the first and the last three words of the headline.
How this tool works is after you enter your headline, it analyzes each word and gives an overall headline quality score and shows the rate of its ability to get results in social media shares, traffic and SEO value.
You are given excellent advices and tips on how to make headline improvements based on the analysis. 
What I really like about this tool is, the headline is broken into word categories of common, uncommon, emotional and power. It will tell you what your power words are, for example, my power words are "best" and "free" on my keyword phrase at the top.
After you follow the suggested improvements, your score goes much higher. My keyword phrase went from 34% to 72% after making the suggested improvements. Each time you make changes to the headline, your history is retained so you don't have to manually write down your original headline.
7. 

Canva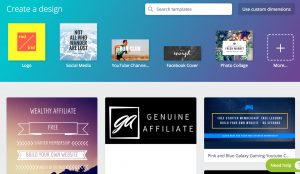 Whether you want to be creative or go with simple designs, Canva is one of the most popular graphic design tools used by affiliate marketers.
When it comes to designing your own logos, business cards, call to actions, social media layouts, this is the one I favour the most. You can create any graphic design you desire and it's easy and flexible to use.
This works by a simple drag and drop of the design features like background, text, shapes, grids, frames, illustrations, lines, colours, and lots of free stock photos to create any design you can imagine.
8. 

Content Idea Generator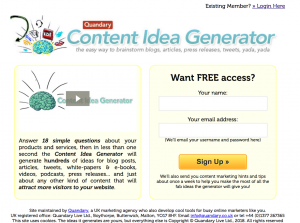 Trying to come up with more interesting topics to write about? Try the Content Idea Generator.
The first thing you need to do is enter your name and email address to get you to answer 18 quick and easy questions about your online business. The Generator does it's evaluation based on your answers and instantly pops up a list which is downloadable, of hundreds of relevant blog post ideas, ebooks, videos, anything that will help bring traffic to your site.
They also have an excellent video to worthwhile watching that explains how this generator works.
9. 

Google Search Console (Google Webmaster Tools)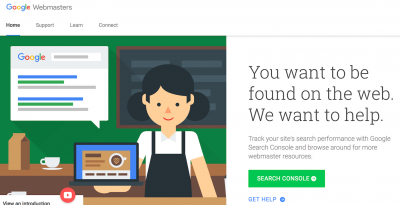 This is a free set of tools from Google. Not only does Google Search Console want to understand what goes on inside your site, they also want to share that information with you. Unlike some of the other perky expensive and sometimes overbearing SEO commercial tools available in the internet, I find this one to be the MOST useful.
You definitely want to use these because Google owns it and as the name implies, these are tools designed for webmasters and bloggers like us.
There are many benefits here because Google communicates with you. They crawl through your site to give important data on your internal and external links, checks out what keywords your readers used when they landed on your article, what pages they landed on, where did they go after they left the page and much more. They check everything in your website. 
The data you receive helps you to make important decisions on the direction of your site.
Every time you make substantial changes to an article or have a newly published article, run the Fetch to Google and Sitemap to get Google understand what it's about and get it indexed.


10. 

Speech Recognition SoundWriter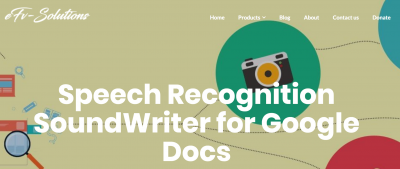 As affiliate marketers we get tired of writing… I know I do, so using different ways of creating content is another way to keep us motivated and keep up to our competitors.
This Speech Recognition SoundWriter is a very good speech recognition tool and it works only in Google Chrome. The software is developed by EFV-Solutions.
You need to have a Gmail account setup so you can use it in your Google Docs. The part I like is, anyone in the world can use this. The default language is set to English but this can be changed in any language you like.
To install the software in Google Docs, click in the Add-ons and do a search on Speech Recognition SoundWriter. In their Custom Configuration box, you have the ability to add words that work as commands. For example, say you mention "dollars", the word is replaced by "$" sign, say the word "comma" it is replaced by a "," and so on.
11. 

Mobile-Friendly Test
Now a days, people take their cell phone anywhere they go to do their shopping online, do their business and look for all kinds of information. Is your website mobile friendly?
This is Google Search Console's tool and they let you enter your page URL to see how friendly it is on mobile. Results are given and any errors on the page are brought to your attention so you can correct them.
12. 

Da Button Factory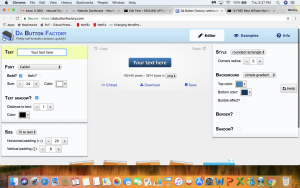 If you want to make quick and easy calls to action buttons, the Da Button Factory is worthwhile looking into.
It's an online button generator that is easy to design buttons like "Sign Up Now", "Get Started" and much more. They even give you button examples with text in that can be manipulated. Features like the text size, font styles, colours, and borders, etc can give your buttons a great design and when you're done simply download it to your computer.
==================================================
These are the free tools that I enjoy using but there are still tons of them available online for affiliate marketers. I hope you enjoy using these. Let me know which ones you like or if you have other tools that you like that's not mentioned here, I really would like to hear from you.
Thanks for reading!
Monica
If you are looking for a place to learn and grow your online business to the next level, you might want to check this out. CLICK HERE NOW for your 10 FREE lessons. No credit card asked!