PRODUCT NAME:  JAAXY KEYWORD TOOL – Super Powered!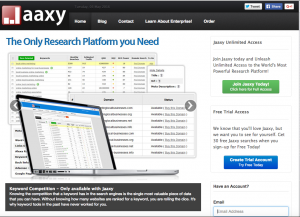 Overall Ranking: 98 out of 100
Price:
FREE Starter = $0.00
PRO = $19.00 USD per month
             $199.00 USD yearly
ENTERPRISE = $49.00 USD per month
                               $499.00 USD yearly
Owners/Manufacturer: Kyle and Carson
Website: www.jaaxy.com
Who benefits using Jaaxy? FREE Starter – getting started
                                                       PRO – new websites
                                                       Enterprise – power users
INTRODUCTION
---
Doing keyword research is absolutely vital to any online businesses who want free traffic on search engines. Not doing this, you're only holding your breath! No traffic = no business = no profit!
I'm here to do a Jaaxy Keyword Research Tool Review!
There are many keyword research tools available on the internet. Which one do you choose? What kind of information should you be looking for?
When choosing keywords for your site, your articles or blogs, you need to look for 3 important criteria's:
How much actual Competition is there on sites using this actual keyword?  

300 websites Google pages

or less is what is recommended. Less is better!
How much actual Traffic is generated on this keyword a month? A traffic of 100 searches is recommended, of course, the higher the number, the better!
Does this keyword make human sense? When you look for something on the internet, think of what words you put in the search engine that make sense.
Jaaxy is, in my opinion, the BEST, MEGA-POWERED KEYWORD RESEARCH TOOL in this universe! I'm very excited to reveal
this review and show exactly what Jaaxy has to offer… are you ready?
What Jaaxy can do!
---
There are 3 versions:
1) FREE Trial to get started. With this you get:
30 Keyword Searches

Fast Niche Research

Alphabet Soup technique (5 results)

Metrics to understand keyword research

Site Rank Analysis

Website Analyzer

Affiliate Program Finder

Keyword List Manager

Brainstorm Idea Feed

Lucrative Affiliate Program
2) PRO  (also includes everything in FREE Trial)
Unlimited keyword searches

Keyword Competition

Instant Competition (QSR) – manual

Alphabet Soup Search – 15 results

Domain Availability – manual

Multi-Tab Search – 2 tabs

SEO Analysis

Search History
3) Enterprise  (includes everything in PRO)
Instant Competition (QSR)

Alphabet Soup Search – 50 results

Domain Availability – instant

Multi-Tabbed Search – 5 tabs

Site Rank Analysis – 5x Speed

Data Sorting

Speed 5x
What's your preference?  Give Jaaxy a try and see what it can do for you! Choose what best suits you here!
How easy is Jaaxy to use?
---
Using the right keyword will bring in traffic, generate interest on your products or services and create income. Some people believe looking for profitable keywords is difficult. This can be quite true if you end up using keyword research tools that use techy terminology with no explanation or provide you with useless information. It can also be extremely harmful if you get inaccurate results and end up using non-profitable keywords. The end result of all your hard work –  no profit!
Let me show you how quick and easy it is to find your accurate and profitable keyword using Jaaxy!
Alright, let's begin…
First, let me explain what the colors mean in my screenshots:
Green – profitable keywords

Yellow – OK on the keywords

Red – don't bother with those keywords
I have just decided to look up old age pension for a niche and just so you know I have not done a keyword research till now on this. Let's see what we come up with!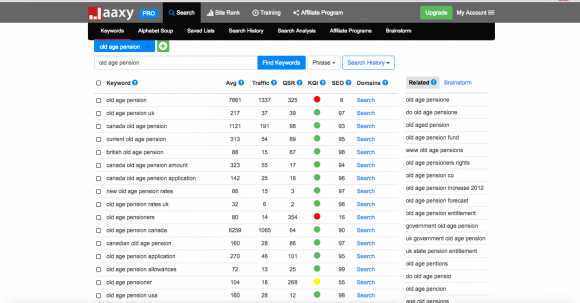 I have a total of 25 profitable keywords (green) and I know I can rank quite easily with these in Google. The best part is, it took me not even 30 seconds for this process. Amazing! There is no way I can do this research manually that fast, it would literally take me days!  As you can see, you don't have to be an expert… just let Jaaxy do the work for you!
Now, if you don't believe me, click here and try it for yourself ABSOLUTELY FREE!!! Experience for yourself!
Some

Jaaxy

 Features are:
1) Interested in making money by Domain Flipping? 
This is a billion dollar business! Here in Jaaxy, you can find a domain that is a match to your exact search term.  You can snag a domain inexpensively, and quickly get it on hosting, create a quick blog, sell it for thousands of dollars … another place to make a  great profit!
You might wonder about the expenses on domain flipping, hosting is very cheap. You can even make money on the hosting package as an affiliate and make a commission as well. The process of this domain flipping can be repeatedly reproduced. You can also keep the domain for yourself and use it as your business.
2) Search Analysis
Getting information on your competitors can be highly useful. You can see their URL, meta description, word, etc.,  These are based on your exact keyword match. This can help you make improvements to your articles.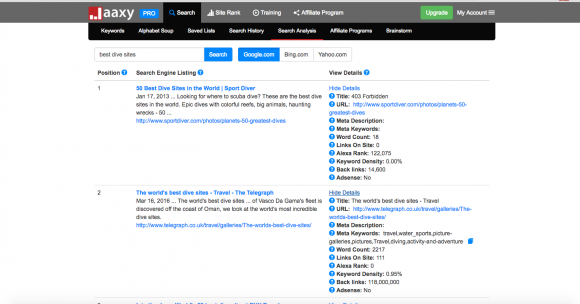 3) Brainstorm 
This automatically produces additional keywords related to your targeted keyword.
4) Site Rank
When I signed up for Jaaxy and decided to become a PRO member, I was so excited to see where my site was ranking. I think it's something we all want to see. It gives me a lot of incentive. Yes, you can try doing it on Google, search page by page but how long will you keep 'flipping' pages? Here on Jaaxy, you can get an instant response. Simply type in your keyword and URL and immediately see what page you're on with Google.
5) Quoted Search Results (QSR)
Interested in finding and analyzing how many websites actually use that same keyword? Jaaxy gives you instant and accurate true numbers of Google competition pages.  300 pages or less is what I recommend and the lower the better.
6) Traffic
You need traffic to your website or blog. Without traffic you won't make money, you won't get recognition for your brand and of course, no generation of leads. The numbers shown are average per month. Here, you will learn how to analyze traffic. Look for at  least 100 monthly searches, the higher, the better. Stats are average per month.
7) Keyword must make sense
When you search your keyword you need to make sure it makes human sense otherwise you're wasting your time.  Think of it this way, what would people enter into their search engine to find you?
Interested in becoming an affiliate Marketer?
---
Jaaxy also has a very lucrative private Affiliate Program. To market this program, you must first become a PRO member with Jaaxy. They provide you all the necessary marketing information and tools for you to use. Their commission structure is as follows:
Monthly sales – $19.00 make $8.00 recurring commissions (average $100.00 per sale)
Yearly sales = $199.00 make $80.00 per sale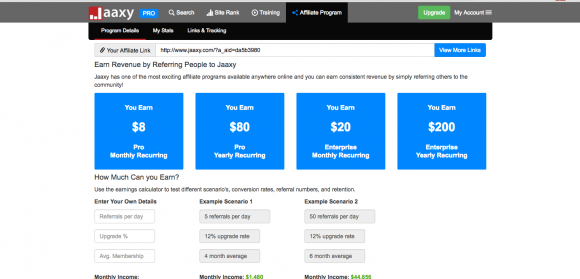 Training / Support
---
Support with Jaaxy is excellent, the best ever! I have never had any problems with getting support. Questions are addressed in 24 hours or less. Jaaxy's training and support consist of:
Video training

Kyle and Carson's Contact information

contacting them directly in Wealthy Affiliate through their Profile area

contacting any members in Wealthy Affiliate's live chat
Kyle and Carson are also owners of Wealthy Affiliate. This is a place where hundreds and thousands of people from all over the world do their work on their online businesses. It's a place where we learn how to create, build and maintain our websites. It's also where I do my work, available to me 24/7!
Summary
---
Overall Ranking: 98 out of 100
Price:
FREE Starter
PRO Membership = $19.00 USD per month
                             = $199.00 USD yearly
ENTERPRISE Membership = $49.00 USD per month
                                            = $499.00 USD yearly
MY FINAL OPINION/VERDICT
After doing much searching for the best profit-making keyword research tools, I started with Jaaxy's FREE Starter. After I used my 30 free keyword searches, I found I couldn't do without Jaaxy so I signed up with Jaaxy's PRO version. Best decision I ever made! As long as I have access to the internet, I can use Jaaxy anywhere on my phone because it's web based. If I go shopping and see something I like, I can easily and quickly bring up Jaaxy, search for great keywords and keep my history.
So here's what I recommend:
1)  If you're new to keyword research and unsure of what it can do, I suggest going with the FREE Starter trial version. It's limited as to what it can do but it will give you an idea of what Jaaxy can do for you. It's a great place to start!
2) If you work on a budget and you're a starter, then the PRO version is a great choice. The PRO has close to what the Jaaxy Enterprise offers except it doesn't have the speed to bring up the results.
3) If you're a 'power user' and you don't like to waste time waiting for results, then the Jaaxy Enterprise is the way to go. Get instant competition results and domain availability. In addition to everything the PRO has, you will see 5x the overall speed and 5x the speed in site rank analysis.
Get your free 3 bonuses from Kyle and Carson:
1) 1,000 quality, low competition with high traffic keywords.  These have been specifically hand-picked.
2) Guide handbook on niche researching. Learn how to use Jaaxy and discover your own unique hot niches and how to achieve success.
3) Domain Industry guide book. Uncover the secrets to domain flipping with Jaaxy and easily tap into the billion dollar business. Buy them at a low price and make a profit.
Try Jaaxy Keyword Research Tool for FREE by clicking below.
Once you're done, please leave me a comment. If you have any questions, you're most welcome to leave it in the comment area as well!
Thank you!