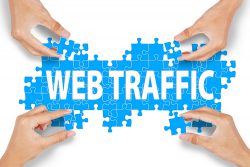 "My biggest problem is not getting enough traffic to my website!" This seems to be what a lot of internet marketers are saying these days. Is this you? With so much competition around we need to really sit down and figure how to get more brilliant traffic strategies to our website.
We all know that no traffic to our site means no leads and no leads means no sales so what we can do?
7 Best Ways To Generate Great Traffic For Your Website
---

You might already be familiar with some of these.
Google, Bing, Yahoo and SEO (search engine optimization)

PPC (Pay Per Click) Marketing

Facebook Ads

Guest Blogging Ranking Your Content

Relevant Forums (Discussion Boards)

Wiki Answers and Quora

Social Media Followings
At the end of this article, I have for you a Bonus: Word of Mouth – The Most Powerful Strategy!
1. Google/Bing/Yahoo and SEO – MOST IMPORTANT!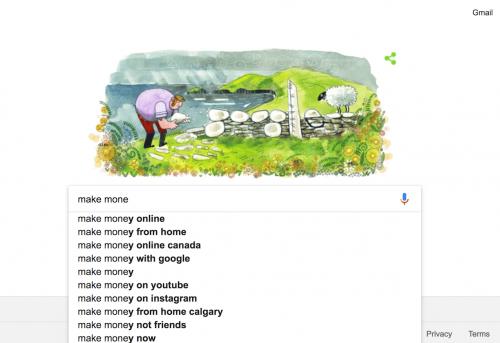 What are these?
These are software systems designed for millions of people to enter billions
of search queries. They get search results that are presented in lines of results.
Why use this?
This is a great opportunity to get your website out to your targeted audience who are looking for information to provide solutions to their needs.
How to do this?
1. Determine the Right Keyword. To do this you need to know what your targeted audience is entering into the search engines of Google, Bing and Yahoo. Say your niche website is about affiliate marketing and your target audience is people who want to make money, join affiliate programs and learn how to rank on Google's first page.
You think of a topic like "how to make money online" because you think people are going to be looking for information on it.  You can't just start writing content on this and expect people are going to find your article just like that. The reason is you could have a ton of competitors all using the same keyword and if your site is relatively new, chances are your audience is never going to find it.
What you need to do is use a high quality keyword research tool to help you find the right keyword on that topic. I use Jaaxy Keyword Research Tool because it helps me know about my competitors and find my right keyword that I know I can easily rank on Google's first page.
The method I use is the "low hanging fruit tree", in other words, the 100+/100- meaning look for keyword phrases with monthly traffic greater than 100 and under 100 for the number of competitors (QSR – Quoted Search Results).
==> Enter Your Keyword in Jaaxy Keyword Research Tool (No Credit Card)

2. Content Optimization. To optimize your content, make sure the keyword is in your title and in the first paragraph (put it in a way that looks natural).
3. Get Your Content and Site Crawled. You need to let Google, Bing and Yahoo crawl your site so they can get to know and understand what your content and site is about. The tool I use is Google Search Console for Google.
In case you don't know, Bing's Webmaster Tool is similar to Google's and Bing also controls Yahoo's search engine in terms of webmaster tools. This means you only need to get in Google's Webmaster Tools and Bing's Webmaster Tools.
4. Rinse and Repeat. Meaning anytime you have new topic you want to write about, go back to the beginning and repeat the steps.
2. PPC (Pay Per Click Marketing)


What is PPC?
This is a method of internet marketing to direct traffic to your website. Advertisers (you) bid on relevant keyword phrases related to your niche that appear in the top positions of the search engines. When the ad is clicked you pay the publisher. In reality, rather than "earning' the visits to your site, you are really purchasing visits to your site.
Why use it?
If your site is new, this is an excellent kickstart to get your content out into the search engines.
Let's say your new content has been ranking and you see some conversions thru social media but it's not ranking on the search engines first page. This would be the time to use PPC to get your content ranked right on the top of the search engines so your audience can now easily click into your blog post.
You should already have a great CTA (Call to Action) like "Click here now to get your FREE eBook" so you can test and measure the content performance often.
How to start it?
1. Sign Up. Sign up to Google Adwords and or Bing Ads. (Not really necessary to sign up to both).
If you sign up with Google Adwords, quite often you will see coupon codes.
If you're a frequent user of Gmail, you can also search for Google's Adwords by entering the word "Adwords" and you might very well come up with a coupon that might say something like "spend $50.00 and get $100.00 credit, in other words you get 150.00 of ads for $50.00. This is an inexpensive way to use PPC and save you a pile of money.
2. Setup Your Campaign Budget. This is is where you determine how much you want to spend in advertising to get your audience to click on your blog post so it's important to only spend what you can actually financially afford.
3. Get Relevant Ads. Make sure your ads are RELEVANT to the keywords you are bidding on. For instance, you bid on the keyword "Best Affiliate Program to Join" and your ad copy shows " What is the Best Affiliate Program to Join?". When visitors click on the ad, it takes them to the blog post called "What is the Best Affiliate Program to Join?".
4. Track Your Results. As soon as your ad starts, always monitor its progress which you can do by downloading an app from your iPhone. Consistently track what keywords people are clicking on and make slight changes if you need to make improvements to make your ad campaign more effective.
** DO NOT GO PAST YOUR SET CAMPAIGN BUDGET!
3. Facebook Ads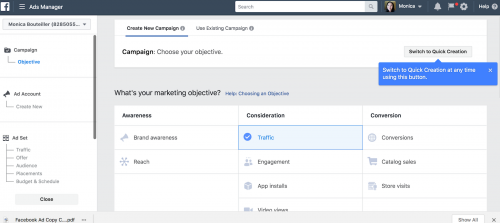 What is it?
These are advertisements created by businesses on Facebook serving over 2 billion active monthly Facebook users. Wouldn't you want to take a piece of the pie?
You can run lots of ads on:
Mobile

Videos

Banners

your Facebook posts

Your website

Instagram because Facebook owns it
Why use it?
I think you will agree with me that Facebook is the most popular social media hangout in the internet world with over 2 billion monthly active users.
Facebook is one of the best platforms to display ad content to your RELEVANT audience.
You can super target your ad demographics. For example, you can show your Facebook ad to people who are 20 to 60 years and work. The more targeted your ad is, the less the cost is.
Facebook is also an excellent way to build up trust with your social media followers by engaging and providing help to their needs.
How to start it?
The tool I like to use is called Facebook Insights and you can get access to it by visiting Facebook Ads Manager (facebook.com/ads).
1. Set Your Goals. You are given a list of objectives to help define your goals. For example, where do you want your targeted audience to go to see your ad? Do you want them to go to your website?
2. Set Your Audience. You can choose your audience from various categories. Who is your audience? Are they male, female or both? What language? Location, interest and so on.
3. Set Your Budget. You can set your budget to daily or lifetime (a specified length of time).
4. Create Your Ad. What do you want your ad to look like? You are given 2 formats and you want to use your goals to help determine this. Display a single image ad or a multi-image ad.
** Ensure your ad is RELEVANT to where you take your audience to.
5. Proceed With Your Order.
6. Track Your Performance. You really want to keep an eye on how much you are spending daily and watch the numbers of visitors coming to read your ad, where they're from, etc.
4. Guest Blogging Content That Ranks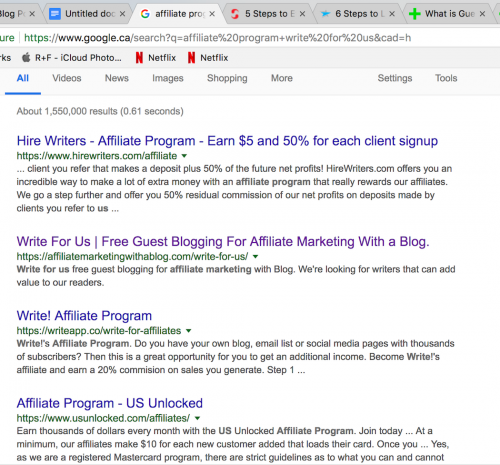 What is it?
This means you are writing and publishing blog posts on someone else's website or blogs. Both you and the other party receive the benefit of more traffic and brand awareness reaching to different audiences. Yes, backlinks are very much alive and well.
Why use it?
It's an excellent way to build YOUR brand so people remember you as an authoritative person in your niche when you create relationships with other bloggers in your niche.
Increase traffic to your site with new audience.
Get more Google SEO juice when you guest blog off an already top ranking site.
How to start it?
Start in Google search bar and enter "your niche+ write for us". An example is, I replace the "your niche" with what I want which is "affiliate program".
Google shows all the write for us using words with  "Affiliate program". This is how you can find Guest bloggers.
Another way to do this is to look inside forums and discussions boards.
1. Find relevant topic to your niche site you want to write content on.
2. Do keyword research on your keyword.
3. Write relevant keyword rich Guest Post. Write a guest post that is relevant to your niche and what works for your guest niche.
DO NOT WRITE BLOG POST WITH TOTAL INTENTIONS OF PROMOTING YOUR SITE as this will not go well with the blog owner you want your content on.
4. Get the approval of the blog owner then publish and post to social media. Your blog post owner will be very pleased you reached out to your social media followers.
5. Relevant Forums (Discussion Boards)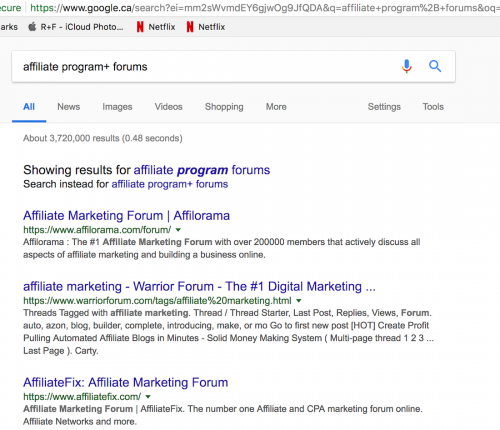 What is it?
This is a platform where like-minded people like you and me can hang out to discuss relevant niche topics.
Why use it?
Forums and discussion boards are a great way to gather information for your niche. You can get a lot of creative ideas and help other members out, collaborate with another relevant niche blogger and even write a blog post together.
One of the reasons, I like forums is if you're stuck on anything, you can ask other niche experts legitimate questions to help you get information you can't solve.
How to start it?
The way I like to do this is in Google search bar. Enter "your niche+ forum" and Google will display all the forums that have the word "your niche" in it.
For example, I would enter "affiliate programs+ forum" and Google will show all the forums that have the word "affiliate programs".
1. Join the Forum. When you join the forums and start to engage with the members, DO NOT ADVERTISE YOUR BUSINESS AND DON'T SPAM, because doing this will get you banned immediately and you also risk the word of mouth information leaking out to other forums.
2. Build Credibility. By being a good member and staying active and helping others will establish great trust within the community. People inside will come to you for information.
3. Build a Following. This is a great opportunity to build a following where even your social media traffic will increase.
6. Wiki Answers/Quora
What is it?
This is a community where you can submit answers to the members questions. You can also ask questions and have members give answers to you.
Why use it?
This is a great place to build your authority and trust within your niche when your answers show up in Google's Knowledge Graph. It's also a place where you can establish relationships with qualified traffic coming to your site.
How to start it?
1. Sign Up. Go to wikihow.com&quora;.com to sign up as a member.
2. Build Your Profile. Ask questions and give answers to other members questions only when you know it is correct information.
7. Social Media Followings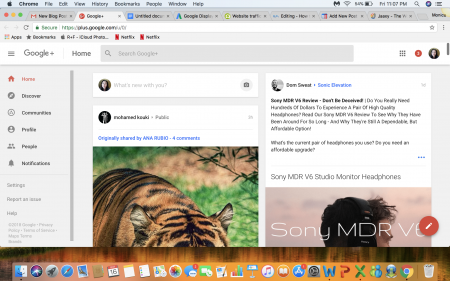 What is it?
Social media followings is an audience who follows you within social media platforms like Facebook, Google+, Twitter, Instagram, Pinterest and other socials.
The most important thing about social media and establishing followers is to be natural, be you.
Why use it?
Billions of people use social media

Access to consumers

Specify your desired target audience

24/7 access

Gives opportunity to establish you as a brand by humanizing yourself

Become an influencer

Monetize your Instagram because Facebook owns it

Promote your business
How to start it?
1. Sign Up. Sign up to appropriate social media channels. The one I really suggest for sure is Google+ because Google owns it.
2. Follow. Select your targeted audience, follow and engage with niche industry experts. If you diverse your followings, you can learn and grow your business by learning from them and increase your traffic.
3. Engage. Be human when you engage with your followers.
** DO NOT BE PUSHY or salesy
==>> Bonus: Word of Mouth
When you have a website, you can share it with anyone and one of the ways I like to do this is in my local community. One of the places to check online is Meetups for your area of residence.
You can become a local industry expert and even do presentations.
How to start it?
1. Business Cards. You can create your own business cards using free software called Canva.com. Even get a couple of T-shirts with your website on it.
2. Sign Up to Related Niche Meetup. When you sign up, go to their meetings, events, socialize and exchange business cards when possible.
3. Sponsor Local Events. Depending on how you do this, it can be costly.
Well, thanks for reading, I hope I gave you helpful information and if you have any questions or comments, I really would like to hear from you.
I wrote an article that I know will help you rank your blog posts and get conversions. 
==>> CLICK HERE: Want information on how to get your blogs SEO ranking and get an awesome checklist?
Regards,
Monica