Scam artists are professionals. They only want your money so beware. Anyone including you can be a potential victim.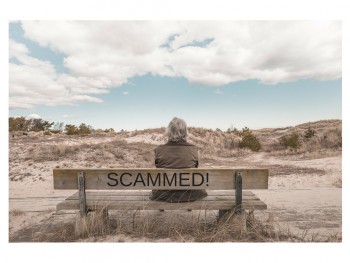 There are a lot of people who seem to think there is this quick and instant magic package that is going to make them million dollar fortunes on the internet. They want to find something that is not going to take much effort…it's going to be easy money. These people are the  perfect catch for the prey!
My information comes from what I have seen during my reviews of internet website marketers, friends who have been scammed and my personal experience.
7  Top Ways To Avoid Scams Online
---
1) Are you seeing just a sales video website?
 You don't see any written content of what the products and or services are. You just see a video and it automatically turns on.  Someone starts talking about how much money he made or you can make in this program and the talk goes on and on. Perhaps you don't even get to see the product.  If this is all you see on the site, be aware. This site is a scam!
2) Can you contact them on their website?
 The site should have contact information such as the owner(s) name, email and location address and of course phone number(s). Look for negative reviews, complaints or scam information on the internet. If they have an email address, send them an email and see if you get a response back. If you don't get a response don't bother doing business with them. If you get only a P.O. box address and no physical address, this is a beware sign.
3) Are they offering you a get rich fast promise on their site?
 These guys will be using their high pressure sales tactics. Their site looks professional. 'Get rich quick', 'Easy money' … is this what you hear and see? You're offered a high return with very little effort, skill or time. They will show you images of cheques in the 6 figures. Too good to be true?? Folks, I can tell you right now, this is definitely a scam!
It's possible to get rich quickly if you're willing to take high risk in the gambling industry!
4) Are they showing claims of success that are way too good to be true?
Talks of how they gave up their job in just a few days because they made a fortune by joining the program.  Maybe you see someone standing beside a lamborghini  or beside a huge yacht  These sites are lacking integrity and credibility and they're a way of luring people in.
5) Are you getting support for your products and or services?
 Say you have a problem and you send an email asking for help and here's what happens.
you're stuck waiting to hear from them for days
you eventually get an email back but the person who answers is not able to help
you don't hear from them.
It's a good idea to send an email to them and see how long it takes for someone to respond back. Allow at least 24 hours or of course, sooner is better. If they really care, someone skilled will answer your questions in a reasonable amount of time,
One of best ways to tell if they're LEGIT is to send them an email with a question and wait for the reply back.
6) Do you get any FREE lessons or bonuses?
 Sites that don't offer FREE lessons or bonuses may not necessarily be scams but you need to be very cautious of what products, tools and services they are actually providing.
Personally, I like to see sites offer FREE lessons …I can easily decide if the program is what I want. They provide more honesty and you get to see what is going on inside their site.
7) Are you seeing constant up sells?
 Let's say you signed up, paid a low fee and now the site is asking you to pay more. You thought it was such a good deal because it only cost you $7.00 to get the product and now before you can do anything with the product you're asked to pay more… this continues and before you know it, you've paid 1,000's of dollars and you still haven't gotten to the end of their program. Buyers beware! A good way to avoid surprises like this is to go online and check reviews.
It's all about the choices we make!
---
We need to always be vigilant of the choices we make in life. This is why I recommend Wealthy Affiliate! I know of no other site  where you can get FREE 10  lessons so you can try the programs and decide if this is what you want. It's a 'try' before you 'buy'.
Wealthy Affiliate is Not:
NOT a SCAM
NOT a get rich scheme promise program
NOT about up sells
NOT a Multi Level Marketing program
If you have any feedback or comment I would like to hear from you.