Google Analytics is very unique in the web analysis industry. For those of you who wonder, is Google Analytics free?
Absolutely! Google Analytics is a FREE website analytics service. There is no commitment, anyone can use it AND you can cancel anytime.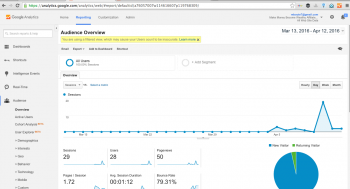 It is the most widely used web analytics on the internet world. If you want to paint a complete picture of your visitor's traffic on your site that can help you improve your online business then you are at the right place! When you have an online business, it's important to have information on your audience such as:
How they arrived on your site

Where they came from, i.e. source media

How they use your information

How long they stayed

There geological location

How you can keep them coming back

Identifying poorly performing pages

Easily customized cross analysis data

Measured conversions and sales

Tracked sales performance and activity (Ecommerce)

Ability to create custom reports
Google Analytics is made up of 4 main sections:
---
 1) Audience
 This session helps you to understand your visitors and clients better so you can target your advertising campaigns and develop effective business decisions on your mobile strategies.
Here, you can get their information such as:
Demographics on age, gender and interests

Geographic location

Behaviors and comparisons of your new and returning visitors:- How often they visit your site and how long they stay.




– How many pages they visit and which ones.




– Which page did they exist from.




– What mobile devices they used to get access to your site. Are they using laptop, tablet, or mobile?
Examples:
Say you're targeting a certain audience in your social media like Facebook and the analysis of your traffic shows favorable high converting visitors of a particular age group …  you might decide to create special ads specific for their needs and interests.
If you see high traffic on first-time visitors, make sure your pages content have quality information that will help them with their needs with enticing calls to action, offer free lessons, etc.
If you see high traffic on returning visitors, you want to get them back by offering free subscriptions, free ebook, etc.
2) Acquisition 
This section gives you information on where your visitors came from, such as social networks like Facebook, YouTube and Twitter or maybe they came from referrals. The purpose here is to help you determine which online marketing strategy is best suited to bring your visitors to your website.
Here, you will see how your visitors are engaging with your site and content and how active they are by monitoring daily, weekly, or monthly.
You get data on your visitors such as:
landing pages, i.e.  pages that received the most traffic from social networks

URLs being used

In-Page Analytics to see how your visitors interacted with your site pages i.e. how many people clicked on your site

Measurement of E-commerce results

Whether or not your visitors did the activities they were supposed to do to give you success based on your Goals setup in Google Analytics.

Evaluations and comparisons of your traffic based on your marketing, searches, referrals and emails, other social media, AdWords, Bing, and direct.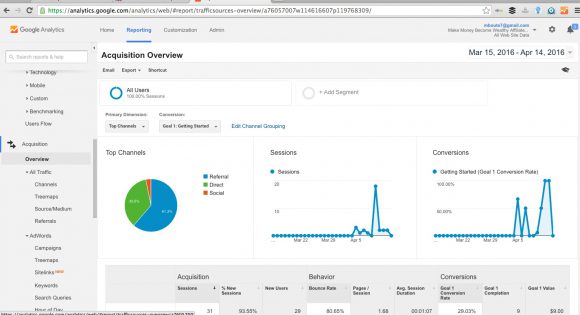 9 Channels inside Acquisition to help you get results:
1. Referral – how many people that have come to your site from some other site for example from a comment somewhere
2. Organic Search – people that have gone through search engine searching for something and then landing on your page as a result of that
3. Direct – someone who has actually typed your web address in the browser bar
4. Social – someone has come from Google+, FB, Twitter or YouTube.
5. Email – someone has come from an email
6. Affiliates
7. Paid Search – someone who has come from AdWords or other paid ad
8. Other Advertising
9. Display

3) Behavior
This is where Google Analytics looks at your website. Things like performance, searchability and interaction are monitored here. You get to find out how your visitors interacted with your content.
This is an excellent place to be to get information on:
 how fast your pages load

identification of your most popular content

which pages drive revenue

identification of visitors activities on your site

landing pages that need to be revamped as in re-written or redesigned.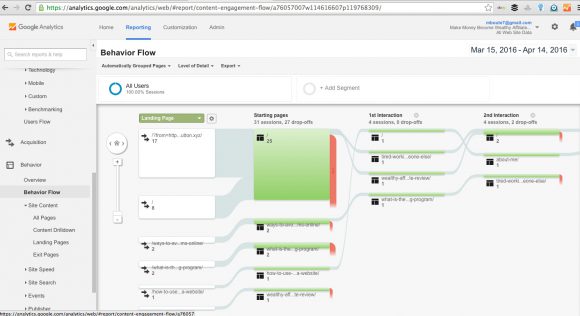 Great attributes of Behavior to use:
Site Content – This is all about the pages on your website. It tells you how often your visitors enter on certain pages and exist on certain pages.
Site Speed – This monitors the performance of your site. The longer your site takes to load up the lower the conversion rates will be and websites that load up faster will have higher conversion rates. This information will help you understand where
your site is slow so you can make improvements.
Site Search – This area helps you determine and measure how your visitors are using your website. You can get information such as:
how people think of your product and service

what page the visitors first started from, for example, maybe they started from your home page or maybe it was from a product page

where they go after they visited your first page, what other pages did they go to? What was the last page (destination) before they existed?

what they're looking for from a specific page
Events – Here, you can measure and track almost anything about your visitor's actions from your site. For example, any click buttons, links and videos can be measured. You just need to tailor it.
Google AdSense – You can link your Google AdSense to your Google Analytics account. Getting information on which pages and sections of your site generated AdSense revenues can be extremely beneficial.
4) Conversions (My favorite!)
This is where you get to see if your visitors did what you wanted them to do on your site. For example, your targeted objective might be for them to go to a specific page like your contact page, review page, did they accept your call to action, etc.
In order to measure your conversions, you must first set up goals. These goals help you determine if you reached your desired success within your site.
Examples:
Confirmations on training

Join here now

Sign up

Download page

You want to set a goal to get 100 visitors on a specific page based on a specific time frame

Watch a video
There are 4 Goal Types:
URL Destination – example, a visitor has landed on your page and took an action. The action then took him to a thank you page. The URL of that thank you page is then recorded as a conversion goal.
Visit Duration – you can set this up as a conversion goal when a visitor is on a page for a certain length of time.
Page/Visit – you can track a specified number of pages a visitor makes on your site.
Event – track events like YouTubes, downloads, specific links and the button click.

Try this now!
---
Make a list of 30 great actions (call actions). You can do this by going to your website, go page by page and look for any important actions your visitors can take. Next, you want to refer to your Conversion Goal Types and write down the best Goal Type that suits each action. Lastly, go into your Google Analytics and set these goals in your Conversion => Goal.
If you haven't setup your Google Analytics yet, click here for Instructions on How to Setup Your Google Analytics!
I hope you enjoyed reading my content! I would like to hear from you! Any comment or feedback would be greatly appreciated and I promise to reply back to you!
Thank you!
Monica