Are you curious to know how much audience traffic you're getting on your website? Do you wonder where these people are going on your site? What are they looking for?
It's really quite simple to setup and the best part is, it's absolutely a FREE Google Analytics setup!
Let's get started …
The very first thing you need to do is enter http://www.google.com/analytics/ into your search browser.
Signing in Google Analytics
---
1) Click in Sign In up at the top right
2) Click in Google Analytics
3) If you already use Gmail, it will display your Gmail accounts. Select one and sign in. If you don't have Gmail, you will need to setup a Gmail account next.
4) Once you have signed into your Gmail account, it will automatically  put you into Google Analytics.
5) Before you sign up here, read the following notes as displayed:
Google Analytics sign up– this is where you provide basic information on the site you want to monitor.

Add Tracking Code – once you get a tracking code, you need to copy and paste this onto your pages in order for Google to know when someone has visited your site.

Audience knowledge – you will see information about your data in just a few hours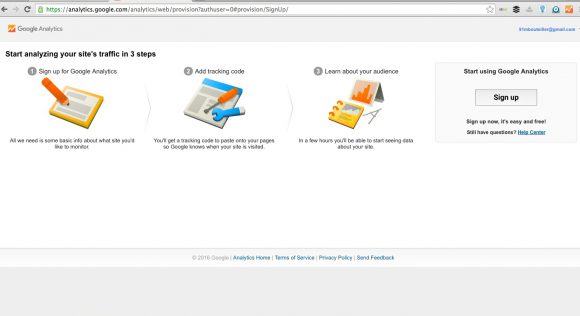 Setting up your new account
---
1) Now click in Sign Up to use Google Analytics for FREE
Under New Account:- Select Website
Account Name – it's up to you what you want to name the account as

Website Name – How To Make Bread for example

Website URL – (without https:// because it already defaults and do without / at the end) so enter your URL for your Website Name as instructed

Industry Category – select your desired category

Reporting Time Zone – select your country and time zone

Data Sharing Setting – decide here if you want to have privacy

Click Get Tracking ID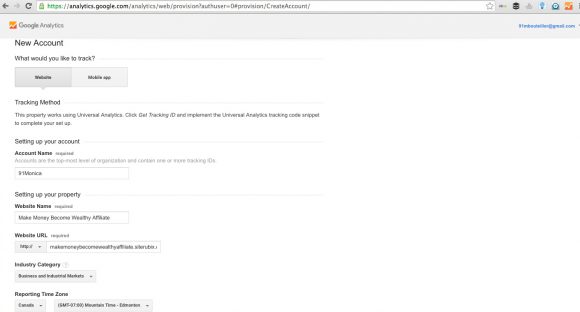 Putting Tracking ID in WordPress
---
1) Next, we want to put Tracking ID# in our WordPress Dashboard All in One SEO.
In Google Analytics Terms of Service Agreement – click I Accept

Ok, now you're in Tracking ID and you will see your Tracking ID# UA-your number'
'This is the tracking ID for your Google Analytics property. If you are using 3rd-party web hosting provider like WordPress, GoDaddy or Wix, you will need to follow their instructions to setup Google Analytics on your website.'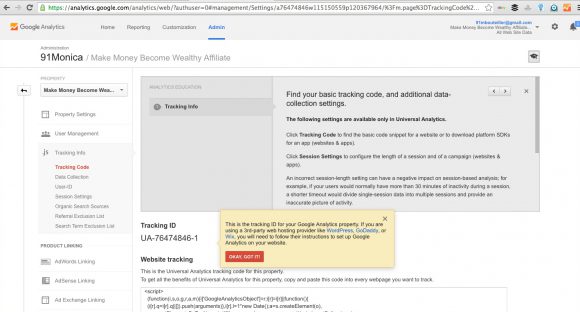 2) Click   OKAY. GOT IT !!
High lite the Tracking ID#

Go to your WordPress Dashboard

Click in All in One SEO => General Settings => Google Analytics ID and paste ID# => and just below that put checkmark in Use Universal Analytics

Click Update Options (You have now setup Google Analytics to track your website)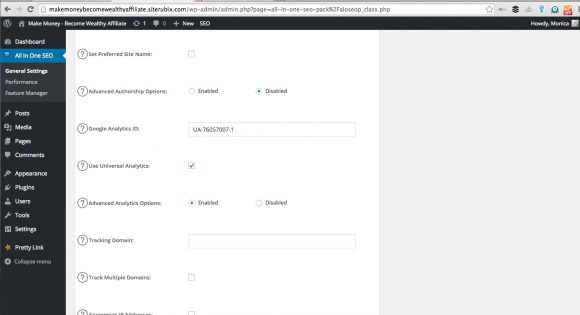 Good work… you're almost done!
Back to Google Analytics
---
The next thing you want to do is look in your Google Analytics account and get an understanding of what you can do and how to setup your analysis reports.
1) Click into Reporting – Get familiar with these 4 Sessions:
Audience Overview

Acquisition Overview

Behavior Overview

Conversions Overview (must setup Goals first to see anything) => Setup Goals
Conversion Goals
---
Note:
If you already have a goal set up and you want to add more goals:
Go into Admin

View column

Then click Goals in that column

Click in New Goal….here you will see some pre-made templates and Custom.

Click Custom (if you don't want pre-made templates.) I prefer Custom!
If you have no Goals setup:
Click New Goal

See Goal setup

Templates – uncheck

Check Custom

Continue

Goal Description Name box – this is where you enter your post and page names, for example, one of my pages is called Getting Started so I entered it here.
Type – Destination

Continue

Goals detail – see Destination box Equals to – paste your URL for this page. In my Getting Started page, I would paste my URL here.

Value – enter monetary 1.00 value. You don't really get paid… but when I see a value it gives me inspiration!

Funnel – leave off

Verify this Goal – should see Success

Save

Make sure Recording is turned on

You will see Reporting up at the top
Good job…just a few more steps!!
Note: 
Conversions Overview – I won't see historical data yet in my Get Started Goal. It will only show a flat blue line going across. It will start from today on to track that goal. This is where you can set your tracking to daily, weekly, or monthly.
How to Setup Google Search Console!
---
Finally, here is how you can add Google Search Console (formerly called Google Webmaster Tool) to your website:
1) Assuming you now have a Gmail account, sign into Search Console.
2) Click Add a site
3) You will need to verify that you're the owner of your site. To do this select one of the following:
Simply upload your file to your server

Make sure you add a meta tag to your site's HTML

Can add a new DNS record

or You can use your own Google Analytics or Google Tag Manager account
Note: 
It might take a few days before you see any results after you verify your site.
Want some more FREE Tools?
---
Yea!! You're all done! Good work…!!
I really would like to hear from you and get your feedback and comment. If you have any questions, please let me know and I promise I will get back to you.
You will find me in Wealthy Affiliate a place where you can get FREE
10 complete lessons to get you started on building your own online business to success. It's also a great place for those of you who already have a business but want to get more ranking… it's where I do all my work.

Keyword Search Tool
Webinars
Live Chats
Classrooms
Much more…
I hope you enjoy using the FREE Google Analytics and Search Console!
Thank you!
Monica