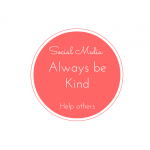 The no-nos in the world of social media! Ever wonder why no one is paying much attention to your Facebook, Twitter or any of your other social media platforms you might be using? 
Here are the top 10 of the don't do with social media for online businesses!
---
1) Don't dismiss social media.
Years ago, you could run your business where people walk into your store and make purchases. And then, computers came out and businesses had websites so people not only could come to your store but they can do purchases online. Now you have to be socially engaged to keep up with your competitors. Your audience wants to trust you and get to know you.
Your competitors are using social media! It's FREE…
2) Don't have the personality of a deadbeat!
Be exciting!
Does your brand have a voice?
It needs to let your audience know you are for real. You are alive!
It must be a consistent familiar voice (don't disappear off the surface of the earth).
Establish trust and sincerity. It should be a place where people can feel comfortable sharing with the same voice.
Remember you're there to help people and provide a solution.
3) Don't immediately remove negative comments!
That's right, you heard me! Removing the comment or feedback immediately from your Social Media platform will only cause readers concern.
They will wonder if you are hiding something, feeling uncomfortable how to answer and so on.
Think of how you want to respond and quickly come up with a solution.. your response.
By doing this, you are showing you care and willing to attempt to remedy a solution to the challenging comment.
If you absolutely cannot come with a suitable response, then remove the comment.
4) Don't be a Social Media Scammer or ongoing broadcaster!
Think of it like this, first, they trust your brand and they're comfortable with you, in other words, they have a connection with you. Second, you are providing them with useful and winsome content.
Posting too many times can become an annoyance to your readers and they will stop following you. Understanding why people follow you is important.
5) Don't have a catch-all you can approach.
You naturally want to sell to anyone who approaches you and want to purchase your goods or services. But the truth is, you can't market to everyone and be successfully effective.
Decide who your target audience will be and spend your time and energy going after those who have specific need of your goods or services. These are people who are most likely going to buy what you offer.
6) Don't create social media accounts without first having a strategy in place.
Having a social media marketing strategy… the essentials in place will lead to a much greater success… this needs to be done before you start creating accounts.
Define your goals, who will look after your social media platform, the maintenance and updates of your accounts.
What are your policies and guidelines of your social media marketing?
7) Don't show aggressive behavior or self-promote.
Social media is all about building relationships. It's the soft sell, the subtle, casual or friendly sales messages.
Never talk about how great or awesome your company is.
Never make your content about selling your product.
You can absolutely write or talk about a product or service but write in a way of how the product or service can help your reader. What's their value? You don't have to tell them that it's something you offer.
You should know what kinds of problems and challenges your readers might have. Simply offer a solution for them but don't do it as a hard sell.. 'buy today'…
8) Never lie!
Maintain your integrity. This is very important if you want your online business to be successful. You need to be you and not someone else. When you are trustworthy, sincere, loyal, people will appreciate what you have to say.
'Honesty is the best policy'. Remember your reputation here, in the world of social media platform.
9) Don't ignore your social media accounts.
Can you imagine having a bunch of readers following you and then all of a sudden you stop sending them interesting content… you stop socializing. Perhaps you got bored, got too busy.
Avoid giving a bad impression. It's much harder to undo this.
Hey, would you leave your storefront business unmanned, door open, and go for a walk?
Do some exercises, something… keep your body and mind actively fresh to socially engage with your readers.
10) Don't be rude.
People will not only remember you for your kindness… they will also remember you for your rudeness.
The most important rule – always be kind!
Do something good for someone. Give them a helping hand and thank them.
Interested in improving your online business?
---
Want some great tips on improving your online business like how to choose the right keywords? Check Jaaxy out.. the #1 Keyword Research Tool!
I would like to hear from you. If you have any comments or feedback please write them below and I promise I will get back to you right away.
If you're curious about who I am and what I do, you can find me in Wealthy Affiliate! It's a wonderful community to be with and I'm there to help you!