Your boards can be an excellent marketing tool for your brand, business or product. When you create engaging content, people are encouraged and curious to find out more about you and what your brand is all about.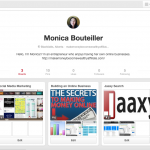 Pinterest is unlike any other social media platform. It organizes their members content by way of boards. Think of these boards like file folders and the outside of the file folder has pictures.  Each folder is categorized with a label… a title of what's inside the folder. If you're not familiar with Pinterest, please read my blog What is Pinterest and how does it work!  
Interested in learning how to use Pinterest to market your business?
---
Take the time to organize and plan your boards. This is the first step…
Your basic boards can accomplish a number of goals, like:
Showing a series of actions or steps to make a product or process. You want to visually illustrate and list the instructions. For example, you can show how to make a craft project like an origami bird.

Developing a strategic plan… think of different ways of planning. For example, you want to host an event. You may want to create a board for location, time, name of event (theme ideas),  purpose, and food or snacks.

Spotlighting your areas, departments or sections of your business like products and services. Include marketing, manufacturing, sales, engineering, and technology.

Showing an overview of your industry… the latest in scuba dive gear, most popular places to go scuba diving.
How should you plan your initial boards?
You want to have some boards already in place before you start pinning.  When you created your Pinterest account (What is Pinterest and how does it work) , you created 5 boards because you were told to.  From here on, you want to start planning at least the first few. As you progress in Pinterest, you'll be creating more boards.  
Here are some Board suggestions:
Your brand history board.

When did it start, what are the successes, what's changed? If you have any old product labels, promotional materials and celebrational news from prior years, you want to pin them here to this board.

Your product history board.

Have any of your products and or services received awards in past years? Are there any significant makeovers? Are they any print ads going back decades? When your viewers see how long your products and services have been around you build trust with them.

Showcase your brand board.

Tempt people by showing the benefits of purchasing your products or services. Ask your clients to send photos of them using them. Let them know of any bonuses and free products.
Who are you! board. By now, you know you have a lot of freedom in regards to what you can do with the boards. Why not create an About You board? Tell people about your team, your mission, location, your products, and services.
Example: 
https://www.pinterest.com/NewMediaExpo/
This is a great example of New Media Expo effectively promoting what they do. They show images of speakers              at their NMX Conference, conference news, opportunities to meet their team, blog writing, pod casting and so              on. These are pinned on their board.
How to's, great tips, DIYs boards.

Use your pins to teach. If you're an artist, you can give tips on what paint brushes to use and how to care for them.
Example:
How to knit
https://www.pinterest.com/suehorridge/how-to-knit/
Gifts and bonuses board.

You can benefit greatly if you're a product oriented brand business by pinning gifts and bonuses. See more on my

xxx.

Books, videos and webinars

board.. You can recommend some great books, ebooks, videos and webinars on your products and services.

Other interests board.

Depending on how you want to brand yourself and or products and services, consider diversifying.
OK, Let's start creating your first board!
---
Take these steps to create a board.
1. If you're creating your first board, click on the red Create board button at the bottom center. If you already have boards, you will see your boards displayed here. On the left side of your boards, you will see a board and in it a + sign that says 'Create a board'. Click in there to create another board.
2. Under Create a Board you will see:
 Name – Give this a board name. Pick out a name that best describes what the board is about. It should be enticing to the pinners      eye so they will want to learn more.
 Description – Make your description relevant to what your blog post or website is about. Your goal as an online marketer is to            bring traffic to your site.
 Category – When you click on the category link, you will see a drop box menu. The categories range anywhere from Animals and      Pets to Women's Fashion
 Secret – You can choose to make your board public so other pinners can see what's on your board. If you choose to make it a           secret no one else can see what's in it.
Collaborators – Having a group board can be fun! It can give a lot of great possibilities. If you're working on a home renovation,       you may want to set up a board with your family and contractor. You can discuss color themes, layouts of boards, etc. One of the       great ways to connect is to collaborate through boards. These are group boards. Participate with like-minded people and start           pinning on a common theme.
So, what's the value in collaborating?
Fellowship – many people just enjoy planning boards around a common theme and having fun.

Exposure – you're not the only one to market their brand. To get more exposure, you want to pin on collaborative boards. By sharing some pins you may get some interest on your website and blogs.

Build the community – other people will come to your boards and pins when you continually post interesting and exciting new pins.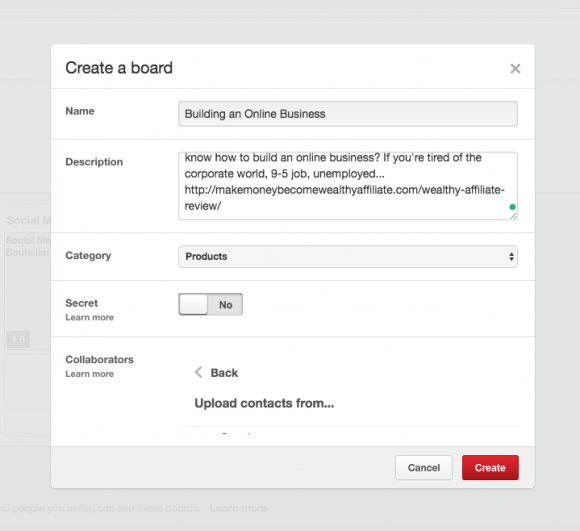 Click the red button Create to create a board. Now that you created the board, see below, the next thing you need to do is to pin image(s) to it.
Next, let's start pinning the board:
---
Did you know Pinterest is a huge traffic driver? It's absolutely true! Why? Pinterest is different from all the other social media platforms who uses those eye-grabbing headlines. You heard of the saying 'A picture is worth a thousand words'.  Take a complex idea and turn it into an exemplary single still image. Pinterest requires you to use images or videos to grab the attention of the Pinterest community.  It's important to have colorful and appealing content. People enjoy learning more…
You can pin images or videos from your website or blog, in addition, you can also put a link back to your site.
You can upload a Pin or you can Pin from a website or blog. To Pin from a website or blog, follow these steps:
1. The first thing you need to do is to go back to your blog content and copy the URL link.
2. Log on Pinterest, click on your name up at the top right, then click on the +sign down on the right side. You are given 2 choices:
– Upload A Pin
– Pin from a website
Click the Pin from a website. You will see it down on the bottom right.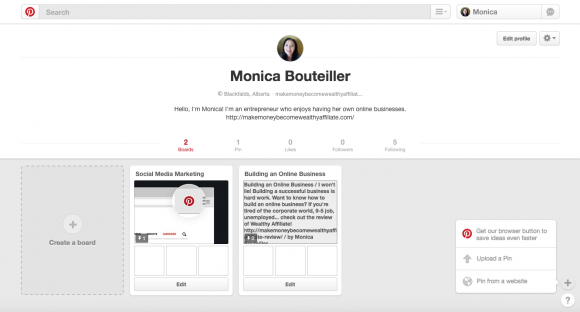 3, Paste your blog content URL link in the http box and click the red button Next.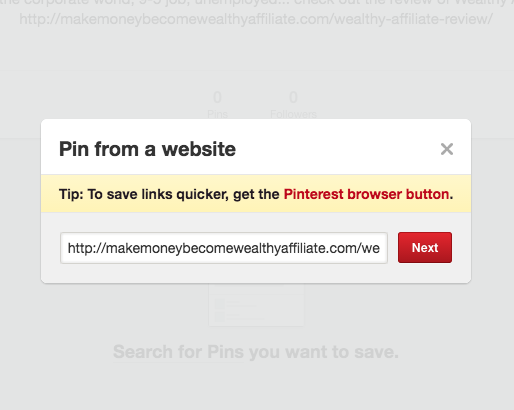 4. These are all the images displayed that Pinterest pulled from my blog post. Choose an eye-appealing image to create a Pin. Showcase what you want to show. Hover over the image you want to pin and click on the red button with the white pin and the wording Save.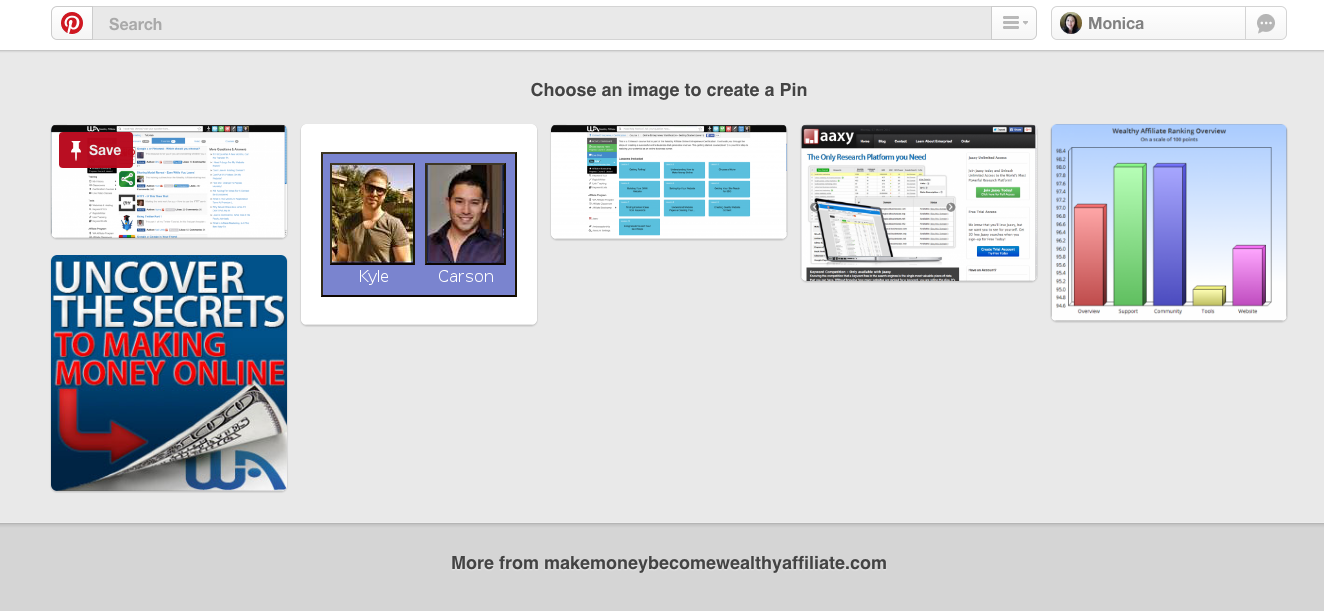 5. The next thing you need to do is select an appropriate board you want to pin the image to. Hover your cursor over that board and you will see the red Save button.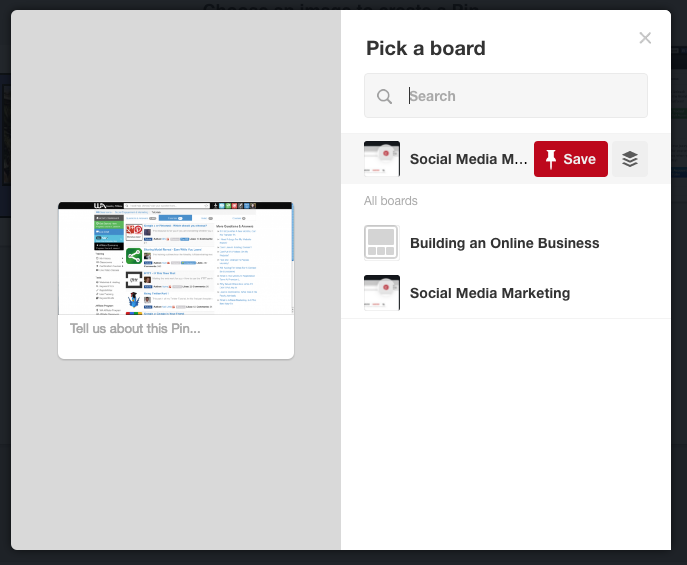 6. In this example, the board I chose to pin images on is the Building an Online Business board. These are all the images I selected to pin.
7. Ok, the next thing that displays is Edit this Pin box with the pinned image. Create a description about your Pinned image (maximum 500 characters). The description you put here needs to be as informative as your image is. If you want traffic coming to your site, you need to express your image.  Make your words appropriate and appealing. Click on the board and then into the image.  You can also delete the image here.  When you're finished click the red button Save.
Board –  defaults to the board name the image was selected to.
Description – this is your opportunity to write your very best informative description of what your image is all about. You want to bring your traffic here.
Website –  this is the default URL link to the blog content to where the images were pinned to.
Place – I recommend putting in your demographic location. You don't need the full address.
Great job!!  Want to know more??
---
By the way, you can have up to 200,000 Pins. This includes your Secret Pins and the Pins on your group boards that you didn't create.
Want to know more about Pinterest?
What are the right and wrong images to pin?

How should you follow on Pinterest?
Want some great tips? Please read my next article to get the answers!
If you have any questions or comments, I would like to hear from you in the comment box below. You can also reach me at Wealthy Affiliate … it's where I do all of my online business!