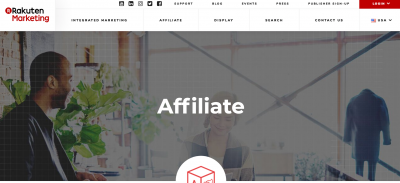 Affiliate networking has already been proven to be one of the best business models in the world. More people look to the internet to read reviews like Rakuten LinkShare to venture into owning an online business looking for the piece of the pie. Consumers are forever spending more money shopping online.
Rakuten LinkShare seems to have captured the minds of many entrepreneurs who want to create extra income and brand product merchants who really do want your business.
Perhaps Rakuten LinkShare is a good choice for you if you want to get into affiliate marketing.
Come read my review of Rakuten LinkShare so you can decide if this is right for you.
Name: Rakuten Marketing (Rakuten Affiliate Network)
Website: https://rakutenmarketing.com/affiliate
Price: FREE
Owners: Executive Board Members
Overall Rank:  70 out of 100
Overview of Rakuten Affiliate Network
---
Formerly LinkShare which was founded in 1996 by Stephen and Heidi Messer, it was purchased by Rakuten in 2005 and became Rakuten LinkShare. In 2014, they branded as Rakuten Affiliate Network.
Rakuten Affiliate Network is an established third party global affiliate marketing network which is headquartered in New York with offices in the states, London and Tokyo. They are voted #1 in 2018 for the 7th time chosen by the publishers and advertisers for best CPS (Cost Per Sale) affiliate network according to mThink .
Boasting to be the largest pay for performance advertising in the internet world, they have partnered with over 1000 of the world's largest and top name brands like Lego, Office Depot, Dell, Apple Store, Guess, Walmart, Sephora and many more.
How Rakuten Works
---

Rakuten finds Advertisers like Sephora and Lego, someone who has brand products or services. Say you want to sell their products at wholesale prices but they won't let you because they consider you a small internet marketer. You have no large store and are unable to carry a sizeable inventory.
This is where Rakuten steps in. They work with these brand names and come up with an agreement allowing you (Publisher) thru Rakuten, the opportunity to market the name-brand Advertiser products.
The big picture looks like this:
Rakuten (third party find brand name companies)

Advertiser (name-brand companies with products and/or services)

Publisher (you promote the Advertiser on your blog posts)
You are the Publisher who refers traffic (your readers) to the Advertiser sites by publishing their affiliate links on your blogs. When they make a purchase as a result of that advertisement, you receive a commission. Rakuten Affiliate Network keeps track of the traffic and when the purchase transaction is completed, Rakuten then pays you your commission.
When you first login, you get to select your payment options. Not selecting means no pay.
Enter your pertinent information into the Account Profile, like your website structure, how you would drive traffic to your Advertiser and define your target audience is. This is how Rakuten helps you by find Advertisers who want to do business with you.
These Advertisers go thru your information and if they're interested, they will invite you to advertise on your site.
Another way to find Advertisers is to go thru Rakuten's categories and see what niches are relevant to your site. For instance, it could be games, gardening, sports, etc. Select the category and you will see a list of Advertisers, which you can read their Terms, see their history, commission structure and then apply. The Advertiser will be in touch whether you're approved or not.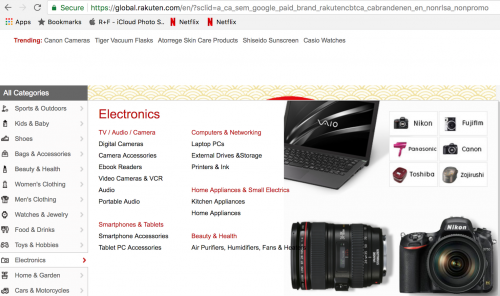 When you're approved, you get the Advertiser's link which you can then place the ad (has the link included) in your blog.  This is how the Advertiser knows you did this because of the link and that's how they identify you as their Publisher.
Most of the Advertiser's commissions are quite small 3-11% so if you're looking for higher commission, it's best to promote high tech product ads.
Your Commission Structure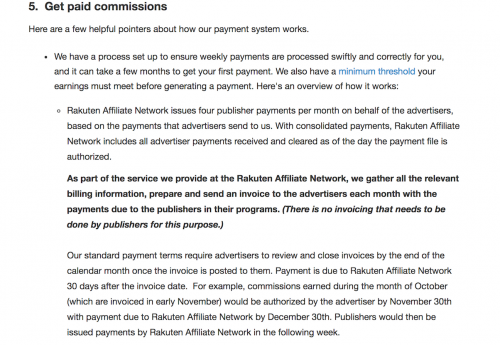 Rakuten says they will pay you by direct deposit, PayPal or cheque. For some countries, there is a minimum payment threshold. They have 4 payments for the Publisher monthly which sounds quite impressive, right?
But in their Quick Start Guide (see below), they give you an example of when you could get paid. If you earn commissions in September, Rakuten sends an invoice early October to their Advertiser, the big brand companies. The Advertiser authorizes the invoice by October 31st with payment due date to Rakuten November 30th. You would get paid in the following week provided your minimum payment threshold has been met.
You could potentially end up waiting at least 2 months or longer to actually see the money in your bank account…. a long waiting time in my opinion but I do appreciate their honesty in actually giving you the example so you understand why it takes that long to get paid.
In the Payment Threshold, you need to specify your balance amount to trigger your 'monthly payment.' If your payment amount is below $50.00 CAD/AUD/EUR/GBP/USD currency then you won't get paid until it's over the $50.00.
Who is Rakuten Affiliate Network for
---
If you have an already established website with a reasonable amount of traffic and are interested in promoting other companies products or services by promoting their ads in your blogs, then Rakuten is something you might want to look into.
Rakuten is doing the hard work of finding brand product companies so you don't have to carry inventory and spend time researching. All you need to do is to have a well-established website, generate traffic and write quality readable and relevant content by placing the Advertiser's ad.
WANT TO GET INTO AFFILIATE MARKETING AND GET A PIECE OF THE PIE?
⇒ Click HERE to find out how you can learn to build your own website and have your online business working successfully!
The Good & the Bad
---
The Good:
1) Honesty. They tell you right off the the bat that this is not a 'get rich' scheme and that it takes hard work. You are required to put time and effort into your online business and be able to create long-lasting relationships with your advertising partners and consumers. I like how they are upfront in stating that if you are not prepared to do the above, it is a waste of time. In other words, don't bother with this if you're not willing to put long hours of work in.
2) Professionalism. Rakuten is looking for business-minded online professionals who already have a well-thought out affiliate business plan. They want you and the Advertiser to be successful. They expect your website to have a good design, written blogs with unique content and have some kind of social media site recognition.
They don't want websites that are under construction.
3) FREE to sign-up as a publisher.  No up-sells. This is easy to do in 5 steps and can be done in about 10 minutes.
4) Comprehensive Quick Start Guide (PDF). The guide is downloadable so you can easily print it out if you like. It tells you what you need to do to get your affiliate marketing program going faster.
5) Publisher Help Centre.
6) Deep linking. Easy to customize allowing more control to direct your traffic to where you want them to go.
7) Advertiser ads and banners (including rotating ones). Select the ad and you get the code. Also helpful, you can get performance data for each ad in the rotating banners and select the best ad.
8) User friendly Dashboard. Everything is here at your fingertips. Navigating is uncomplicated and feels like the information you need is all here for you.
9) Handy and useful ad performance. Great time saver to help you choose the right ad for better results.
10) Adequate training for newbies and seasoned affiliates.
11) 202 countries/ 25 currencies. Great diversification all over the world giving you larger target audience.
The Bad:
1) Poor timely payouts. You will still get paid, but timing is the factor. Rakuten will pay you after they have been paid by their Advertiser. Be prepared to wait at least 60 days or longer according to some Publishers.
2) New websites, no approval. If your website is still under construction or you have very little traffic you are most likely not to get approved.
3) No Live Chat. I honestly could not find Live Chat. It would nice to have this feature to get instant responses back on things you need help on.
4) Not enough Support. There doesn't seem to be enough consumer support according to the complaints reported to Consumer Affairs.
Rakuten Tools & Training for Publishers
---
1) Quick Start Guide: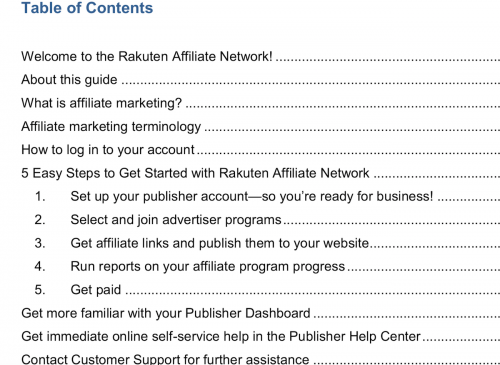 Explains the concept of affiliate marketing and terminology

How to setup your Publisher Account

How to find and join Advertisers and get the their affiliate link to promote their products and services.

Various progress reports and tips

Commission structure
2) Video Tutorials. If you're not familiar with affiliate marketing or you're already a seasoned marketer, there are all kinds of information to help your online affiliate business grow.
3) PopShops. This is where you can build out your product storefront and have your own e-Commerce business setup instantly. I'll do a review on this for you.
4) Dashboard. Advertisers are listed along with their profile information and commission structure. This is where you also get to setup your account and create reports and all your link codes.
5) Personal Training.
6) Monthly Newsletters.
Rakuten Support and Publisher Help Center
---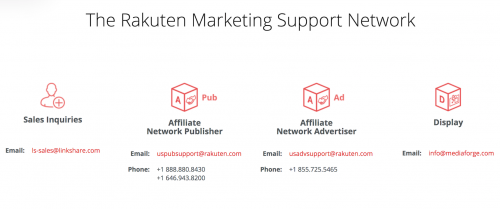 According to their Quick Start Guide, they say their support is more about helping you, the Publisher, in technical issues of getting you setup and to functionally use everything they provide for you.
They say they have received requests from Publishers for more services of advice and that they give broad advices on how to establish relationships with your Advertisers.
They do not give in-depth information to tell you how to generate and grow your traffic to improve your online business nor do they show you where to place your links.
This is why Rakuten wants established website owners who already know how to build relationships with their target audience, are familiar with link placements and management of their own website.
They also suggest you do the following that could help …
Tips in their monthly Publisher Newsletters

Put your question in before a live webinar and play it back later to see your answer

Invited to their Symposiums for current tips.
If you want faster service when contacting Customer Support, make sure you put your Site ID number in which you can locate up at the very top right corner after you login.
This is all I could find in terms of contacting anyone when I have questions and so this is a disappointment. The response time is unknown and I don't know if anyone is available 24/7.
Email address and 2 phone numbers (1-888 and 1-646…) for Publishers

Email for Sales Inquiries

Affiliate Network Advertiser – email and 1 phone number

Display – email only

Not sure who to contact – you need to fill out a contact form

Not able to see if there is Live Chat on their Support page
Rakuten Price
---
FREE to sign-up
No up-sells
My Final Opinion of Rakuten
---
Advertisers Support to the Publishers seems to be a hit and miss. Some will go out of their way to help you, while others will take awhile to respond back to you.
Rakuten Affiliate Network is LEGIT and you will eventually get paid as a Publisher. You are made aware that it could take awhile to get paid, so if you are interested in signing up with Rakuten, just be patient.
With over 1000 Advertisers, you can still earn a decent income just make sure the Advertisers you choose are willing to take the time to answer your questions. 
Name: Rakuten Marketing (Rakuten Affiliate Network)
Website: https://rakutenmarketing.com/affiliate
Price: FREE
Owners: Executive Board Members
Overall Rank: 70 out of 100
VERDICT: LEGIT
I hope you found this review of Rakuten Affiliate Network helpful and if you have any questions or comments, it would be awesome to hear from you. If you are a Publisher within this network, I would also like your feedback here.
In my opinion, you can make a good income using Rakuten Affiliate Network but you need to have a well-designed website, generate readable helpful content, and generate lots of traffic.
If you want to learn how to start an online business or already have your own website and want to to become a successful Rakuten Publisher then CLICK HERE to Wealthy Affiliate.
WANT TO GET INTO AFFILIATE MARKETING AND GET A PIECE OF THE PIE?
⇒ Click HERE to find out how you can learn to build your own website and have your online business working successfully!